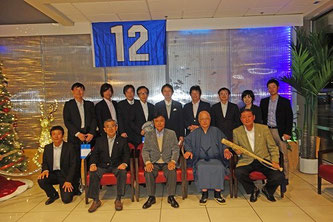 Hi, members.  How are you doing in the storm?  It has not been so cold but it sure is windy this winter. 

Thanks to Mrs. Tamai and Ms. Nagaishi in Fukuoka, we have pictures from the welcome party!  Yay, finally!!!
On November 19, 2015, Honorable Governor of Fukuoka Prefecture, Mr. Hiroshi Ogawa, the Honorable Chairperson of Prefectural Assembly, Mr. Tadatoshi Inoue, the Honorable Prefectural Assembly Member of Dr. Isao Kurauchi and other Assembly Members from Fukuoka visited Seattle.  We had a welcome party for them at the Feast Buffet in Renton and more than 50 members gathered for the event.  Thank you all for coming :D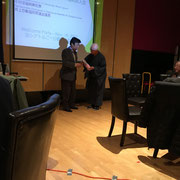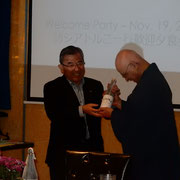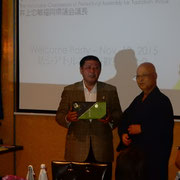 Our Honorable guests were so kind they brought some gifts for us.  They are all priceless gifts:  The Governor Ogawa and Assembly Chairperson Mr. Inoue brought some award winning sakes and Mr. Haraguchi brought award winning expensive green tea from Yame area in Fukuoka.  Mr. Haraguchi told me that the green tea was so rare that it was very expensive.  I am guessing that we have to be a member of the Imperial Family or something in Japan to have this tea...  We also got other kinds of fun gifts from the assembly members.  My favorite was ramen.  My boys liked the coin purse.  I am sure Mr. Tamai and other drinkers will love the award winning sakes.  Thank you very much for bringing all that.  I am sure that they were very heavy, especially soy sauce and miso.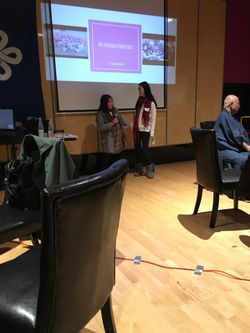 During the party, Mr. Norio Tsurumi from the Consulate General of  Japan, Seattle Office gave us speech and the report on the Japanese companies in Seattle area.  I appreciate that he came for us in the middle of such busy schedule.  I am hoping that he had time to enjoy the food.

Our young members, Jayden Wenger and Lauren Tamami presented a report on an exchange student program they had experienced last summer in Fukuoka.  The PowerPoint presentation was prepared by Jayden and she gave the presentation in English, and Lauren gave it in Japanese.  I am proud of them not only because they made a great presentation but also they represented us well in Japan.  GO GIRLS!

The party also included the 2015 activity report of our Kenjinkai, musical gift produced by Sakiko-san with our kids, and the Tankohbushi Obon Dance.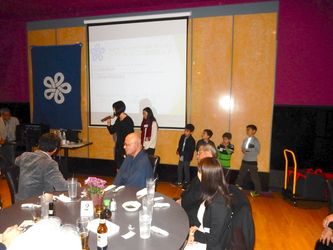 I was very happy to see Governor Ogawa smile when the kids were up front with Sakiko-san.  I think Sakiko-san gave us a good opportunity to show our guests our diverse members.
 I think it was President Tamai's idea to dance Tankohbushi in the party.  It was great!  I remember that I used to go to the park with my friends to pracetice Obon Dance every August.  It is such a nice memory of growing up in Japan. 
What surprised me was that Mr. Forrester knew the dance.  He is 80+ years old pure American who dances Tankohbushi!  OMG!  That blew my mind. 
It was nice to see Mr. Haraguchi was right behind my younger son, Genkai, and showing him how to dance.  I am sure Genkai doesn't know how VIP Mr. Haraguchi is but they were having a good time together.  Sure enough, Genkai was digging and dancing when we got home. 

It wasn't a perfect party but we all enjoyed and saw some changes - new location, family participants, more kids, more students, etc.  3 generations of Tanaka-Ikeda family and Tamai family came.  Sarah-san and many others came as family.  I was very happy to hear that our newest members, Karen and Kayo-chan, enjoyed the party.  Even though we have many things to consider and improve in our future parties, I thought this party was a big step forward for our Kenjinkai. 
I am hoping that our Honorable Guests from Fukuoka felt our welcome spirit and enjoyed the time with us.
Again, thank you all for coming.  I am hoping to see you all consistently in the coming up events.  More people come, more fun we have :D  Stay dry!
Yoko